Timber Frame Pavilion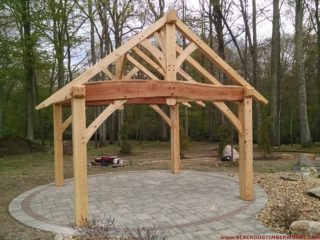 Black Dog Timberworks was pleased to design and craft this fully custom 13′ x 13′ Timber Frame Pavilion set along the Yantic River in Lebanon, CT. We worked closely with the clients to get the design just right, going through many, many iterations along the way. The traditionally crafted timber frame is comprised of rough sawn Eastern White Pine timbers which are accented beautifully by Live-Edge Black Cherry Ties. All of the timber is Maine harvested and sawn at a local sawmill just down the road from the shop. All of the pine timbers are thoroughly cleaned and smoothed with our brush-wheel sanders and coated liberally with Heritage Natural Finishes 'Exterior Finish', for UV protection.
The Black Cherry ties were a bit more work. They were sourced and milled from a small sawmill in Smithfield, and then trucked back to the shop. The next step was removing the bark from the live edge sides, and then sanding and planing everything into shape. The bents were then laid out in the shop and ties were scribed to the posts and plates, and braces scribed to the ties. All in all, very challenging and quite fun!
We delivered and erected this project over a 24hr period in May, raising the frame and then installing Eastern White Pine Tongue & Groove boarding to serve as the ceiling boards for the pavilion. We can't wait to see pics of the finished project once the roofing and trim are complete!
Project Image Gallery
Other Timber Frame Projects