Sebago Lake Timber Frame Residence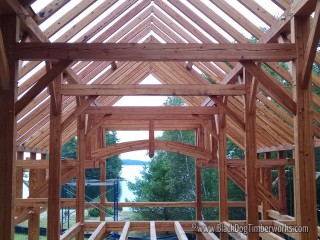 Our largest project to date, this custom designed and crafted Sebago Lake Timber Frame Residence is sure to become one of the most distinguished frames in our portfolio. Beginning with an architectural conception of the project, Black Dog Timberworks worked closely and tirelessly with the clients in the design of the structure. Based on a simple 'barn home' style, this project, while large, is intended to fill the many needs of the family for generations to come. A two car garage, artist studio, bedrooms and great rooms all are incorporated under one roof. The timber frame design features a roughly 32′ x 28′ open great room area, framed with arched brace trusses, keyed posts, and a doubled-up mid-span plate. This area will also feature a field stone style fireplace by Ridlon's Mason http://www.ridlons-masonry.com/ and large expanses of glass on two sides. While serving as general contractor for the project, Black Dog Timberworks has been involved in every facet along the way, from planning and permitting, to groundbreaking and subcontracted trades.
The timber frame itself is crafted out of Reclaimed Southern Yellow Pine, otherwise known as 'Heart Pine' timbers. These timbers were salvaged out of old mill buildings up and down the east coast, de-nailed, re-milled, and delivered to our shop throughout the winter of 2015. Left in a 'rough-sawn' state, we then proceeded to work them square, true, and smooth in preparation for timber layout and joinery fabrication. Once timber joinery was complete, the timbers were treated with Heritage Natural Finishes' oil http://www.heritagenaturalfinishes.com/ and stored for the raising date.
Everyone involved in this project has every right to be very proud of the level or work achieved. Stay posted for more pics as we continue work throughout the winter of 2015-16 on this Sebago Lake Timber Frame Residence.
Project Image Gallery
Other Timber Frame Projects