24′ x 28′ Timber Frame Residence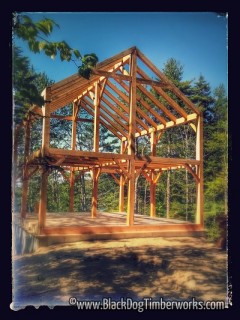 Black Dog Timberworks worked closely with the clients to custom design this 24′ x 28′ Timber Frame Residence to meet their needs for this cute little get-away. Located on a remote, off-the-grid parcel in Phippsburg, the clients had been camping on the property for years, awaiting the exciting time to build a permanent structure. Crafted out of Eastern Hemlock timbers and Red Oak Knee Braces, the frame features a full two stories, with a half-loft on the back side, away from the water, and a cathedral style great room with fantastic views towards the water. We also incorporated a big shed roof off to one side, which will serve as a three-season screen porch.
Raised during a gorgeous stretch of weather in July, the crew enjoyed several refreshing dips in the water! We turned this project over to the clients and a local contractor for the enclosure, and can't wait to see finished pics of this great little 24′ x 28′ Timber Frame Residence.
Project Image Gallery
Other Timber Frame Projects