Large Timber Frame Projects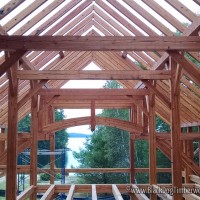 View Project
Raymond, ME: 4600 sq ft (includes two car garage)
Our largest project to date, this custom designed and crafted Sebago Lake Timber Frame Residence is sure to become one of the most distinguished frames in our portfolio. Beginning with an architectural conception of the project, Black Dog Timberworks worked closely and tirelessly with the... >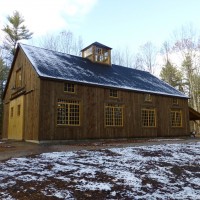 View Project
Raymond, ME: 36' x 54' w/ 12' x 32' Shed
Perhaps our finest project to date, we here at Black Dog Timberworks are utterly proud to have had the opportunity to create this custom 36 x 54 Timber Frame Barn on the shores of Sebago Lake in Maine.  Designed from the ground up to meet the needs of the client, we took care of all aspects of... >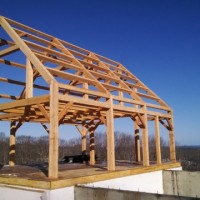 View Project
Rockland, ME: 1600 sq ft (Timber Frame Core)
Raised between March snow storms this custom timber frame will form the core for this architect designed Net-Zero Timber Frame Residence.  Set with an amazing view overlooking Penobscot Bay, above Rockland, ME, this residence will have zero net energy costs.  This means that it will produce... >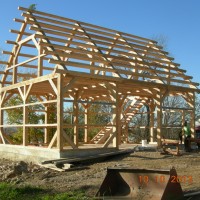 View Project
Bridgewater, ME: 26' x 36' w/ full Loft
This Timber Frame Barn was erected in Bridgewater, ME during a glorious stretch of fall weather.  Measuring 26'x36′ with a full second floor loft this structure will be used as a workshop and storage space.  Featuring traditional mortise and tenon joinery this barn is crafted out... >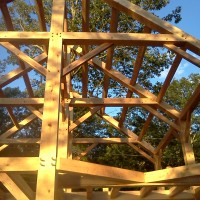 View Project
Liberty, ME: 1100 (timber frame core)
Black Dog Timberworks worked closely with the architect, client, and general contractor on this project to craft a unique and beautiful frame to serve as the core for this lakefront residence.  The traditionally joined timber frame is crafted out of Maine harvested Hemlock, Pine, and Red Oak... >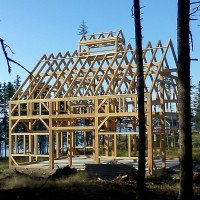 View Project
Hupper Island, Port Clyde, Maine: 30'x40' two story Timber Frame Barn w/ 6'x12' Clerestory
A fabulous project for a spectacular coastal Maine site, this custom designed 30'x40′ fully timber framed barn will serve many capacities through its years.  Designed especially tall to accommodate storage of an excavator, the lines of this barn remain clean and strong.  A full... >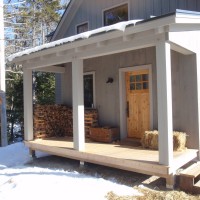 View Project
Brunswick, Maine: 1275 sq. ft. Super Insulated Residence
Black Dog Timberworks worked intimately with the client of this project to come up with a unique custom design that sits elegantly on the edge of a beautiful meadow near the Maine coast in Brunswick. Elements of this design include a shed dormer to accommodate an upstairs bath, and gable dormer... >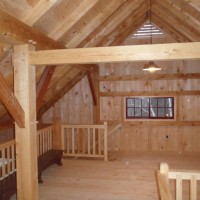 View Project
Hartford, Maine: 38' X 42'
Sited on a beautiful and historic homestead in the foot hills of Western Maine this custom designed Timber Frame Barn will serve in many capacities as the clients head towards retirement. Features of this barn include hand-planed Hemlock timbers, Black Cherry braces and custom woodworking... >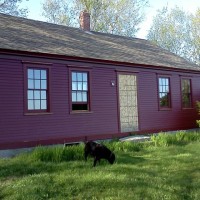 View Project
Hartford, Maine: NA
While not entirely a full timber framing project this one certainly falls under the historical renovation category.  While having mostly 'good bones' year of neglect in some areas led to the need to completely gut and expose every inch of this ca 1820's timber frame cape.... >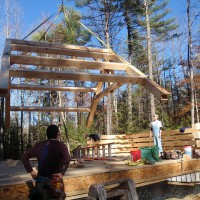 View Project
Madison, New Hampshire: 2100sq ft Owner contracted residence
An ICF daylight foundation, Structural Insulated Panels, and economical use of floor space are all attributes to this smartly designed, energy efficient family home. Timbers are locally harvested Eastern White Pine with a planed finish. Braces are of Red Oak. All of the timbers have been treated... >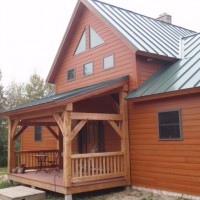 View Project
Turner, Maine: 3200 sq ft Owner contracted residence
An amazing project from the start, we worked closely with the client of this project to create a one-of-a-kind design. Situated on a knoll overlooking a beautiful river valley sunlight pours into every inch of the open floor plan. The frame is just as unique as the design as it utilizes White... >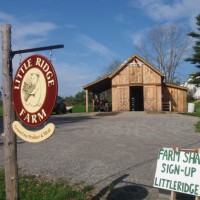 View Project
Lisbon, Maine: 16'X24' Barn with 10''X24' attached shed
Hand raised by a community of friends and neighbors this barn serves as a store front where it provides the finest in local produce and meats. The Timber Frame is crafted out of local Hemlock with Red Oak braces. This barn serves as a storefront for the Little Ridge Farm CSA.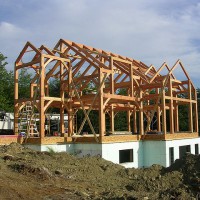 View Project
Errol, New Hampshire: 3100 sq ft Residence
Collaborative work with MINK HILL TIMBER FRAME HOMES AND BARNS INC.
We worked together with our good friends at Mink Hill to cut the wings of this home as well as to come together for its raising.